Ubisoft has released the Illustrious Pirates DLC for Assassin's Creed IV: Black Flag.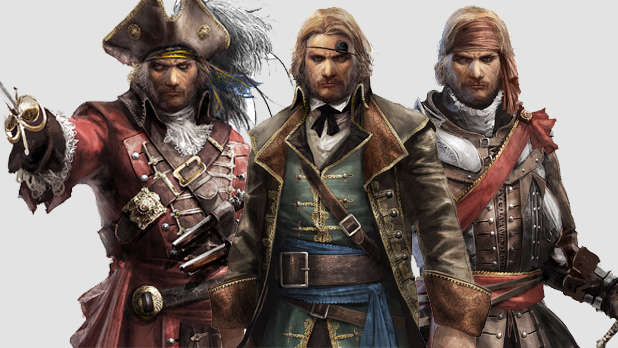 Illustrious Pirates collates all of the game's retailer-specific preorder content into one pack, including the three single-player missions Black Island, Mystery Island, and Sacrifice Island. Multiple Jawckdaw decorations, outfits, and items for the game's multiplayer mode are also included in the bundle.
Ubisoft says the Illustrious Pirates DLC costs $7, and is also included with the game's Season Pass. The content is available on PlayStation 4, PlayStation 3, Xbox One, and Xbox 360 now, and will arrive on European PlayStation platforms today, and globally on PC tomorrow.
The full list of items included:
Black Island – Single-player mission
The Black Ship
Captain Morgan's Outfit, Picture and Title
Captain Morgan's Silver Flintlock Pistols
Mystery Island – Single-player mission
Digital Illustrated Fable
Stede Bonnet's Ship
Stede Bonnet's Outfits
Other Multiplayer Items
Sacrifice Island – Single-player mission
Captain Drake's Picture, Title and Relics – Multiplayer item
Captain Drake's Swords and Pistols
Ivory Wheel – Decorative wheel for your ship
Iron Wheel – Decorative wheel for your ship
Discoverer Title and Picture – Multiplayer item
Astrolab Relic – Multiplayer item
Compass Relic – Multiplayer item
Cartographer Picture and Titler – Multiplayer item
German Rapier Swords
Spyglass Relic – Multiplayer item
Watch Title and Picture – Multiplayer item
For more information on Assassin's Creed IV: Black Flag, stay tuned to in.gamerekon.com