UK retailer Game has listed Batman: Arkham Knight for Xbox One, PlayStation 4, and PC, with the item's description featuring details about the game and box art.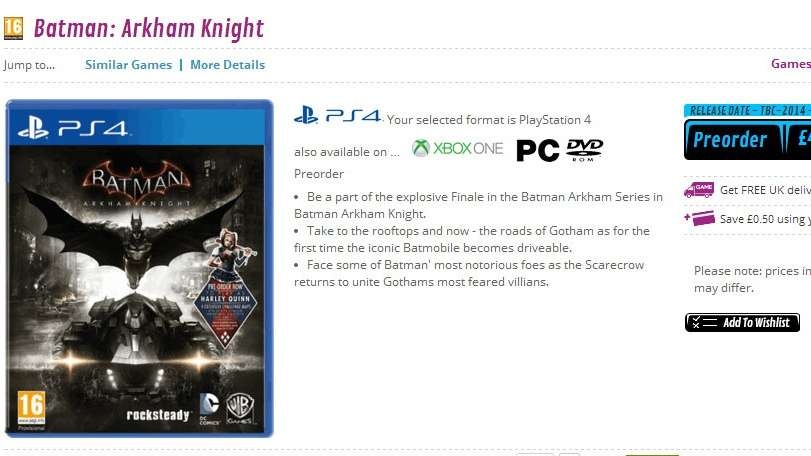 It's official! Game Informer has confirmed that Batman: Arkham Knight will be its main story for its April issue, and has revealed slightly more about the game. Arkham Knight takes place in a much larger Gotham city, with wider streets to allow the Batmobile to be properly integrated. Penguin, Two-Face, and Harley Quinn will also feature alongside Scarecrow.
"We kind of feel like this is the natural end to the story," says Rocksteady co-founder Sefton Hill in an interview. "We want to kind of go out in style."
Batman: Arkham Knight is described as the "explosive finale" to the Arkham series in the (now removed, but spotted by VideoGamer) product listing, and says players will be able to drive the Batmobile around the streets of Gotham. The Batmobile.
It is also said that Scarecrow will feature, and reunite the series' villains. Probably with the collective aim of trying to ruin everything for Batman, at a guess.
A 2014 release date is shown.
Rocksteady, the UK developer behind Batman: Arkham Asylum and Arkham City, is shown as the game's developer.