Warner Bros. Interactive Entertainment today announced a Batman: Arkham Origins Collector's Edition for North America, Australia, and New Zealand.
The bundle, available only for Xbox 360 and PlayStation 3, will sell for $120. A European version was announced last week.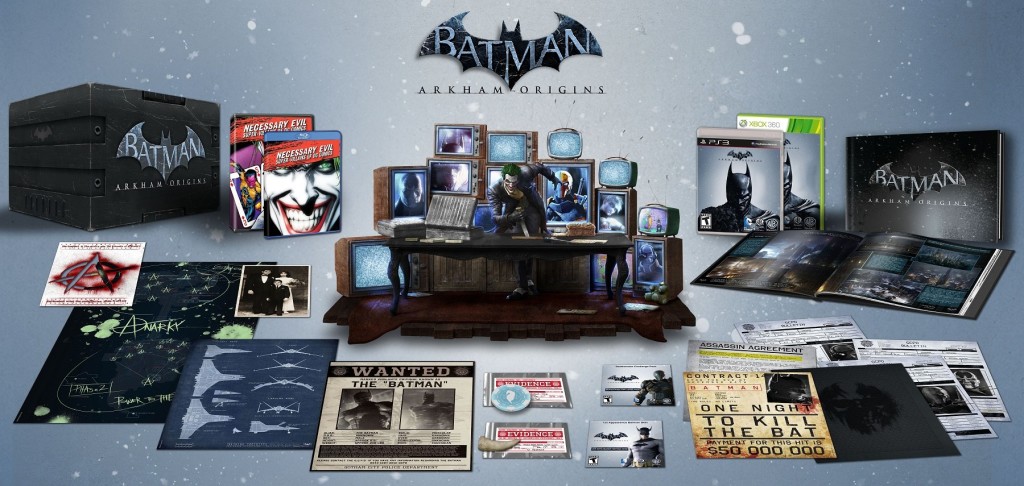 The Batman: Arkham Origins Collector's Edition features a 9″ Joker statue with LED effects, as well as an 80-page artbook, a Batman Wanted Posted, and a Batwing prototype schematic. In addition, the bundle features a glow-in-the-dark map of Gotham City, a Wayne family photo, and an Assassin's intel dossier.
The premium bundle also packs in various digital offerings, including the 1st Appearance Batman skin, the Deathstroke challenge pack, and a copy of Necessary Evil: Super-Villains of DC Comics, a feature-length documentary narrated by Lord of the Rings actor Christopher Lee. The movie will only be available in North American versions of the collector's edition.
The PlayStation 3 version of the Batman: Arkham Origins Collector's Edition will also include the Knightfall pack as an exclusive.
Batman: Arkham Origins is being developed by WB Games Montreal, not series creator Rocksteady Studios. The game's recently announced multiplayer component is being handled by Brink developer Splash Damage.
Batman: Arkham Origins will be released for the Xbox 360, PlayStation 3, Wii U, and PC on October 25. PlayStation Vita and 3DS game Batman: Arkham Origins Blackgate will also release on that day.