Call of Duty: Ghosts will launch this November with two collector's editions, according to leaked promotional material obtained by a NeoGAF user.
A poster for the premium bundles reveals Hardened and Prestige versions of the game.
The Hardened package will reportedly contain a steelbook case, a Ghosts-themed paracord strap, the game's soundtrack, and the previously announced Free Fall multiplayer map.
The poster also shows that the Call of Duty: Ghosts Hardened edition will include access to the game's season pass, said to include four expansion packs.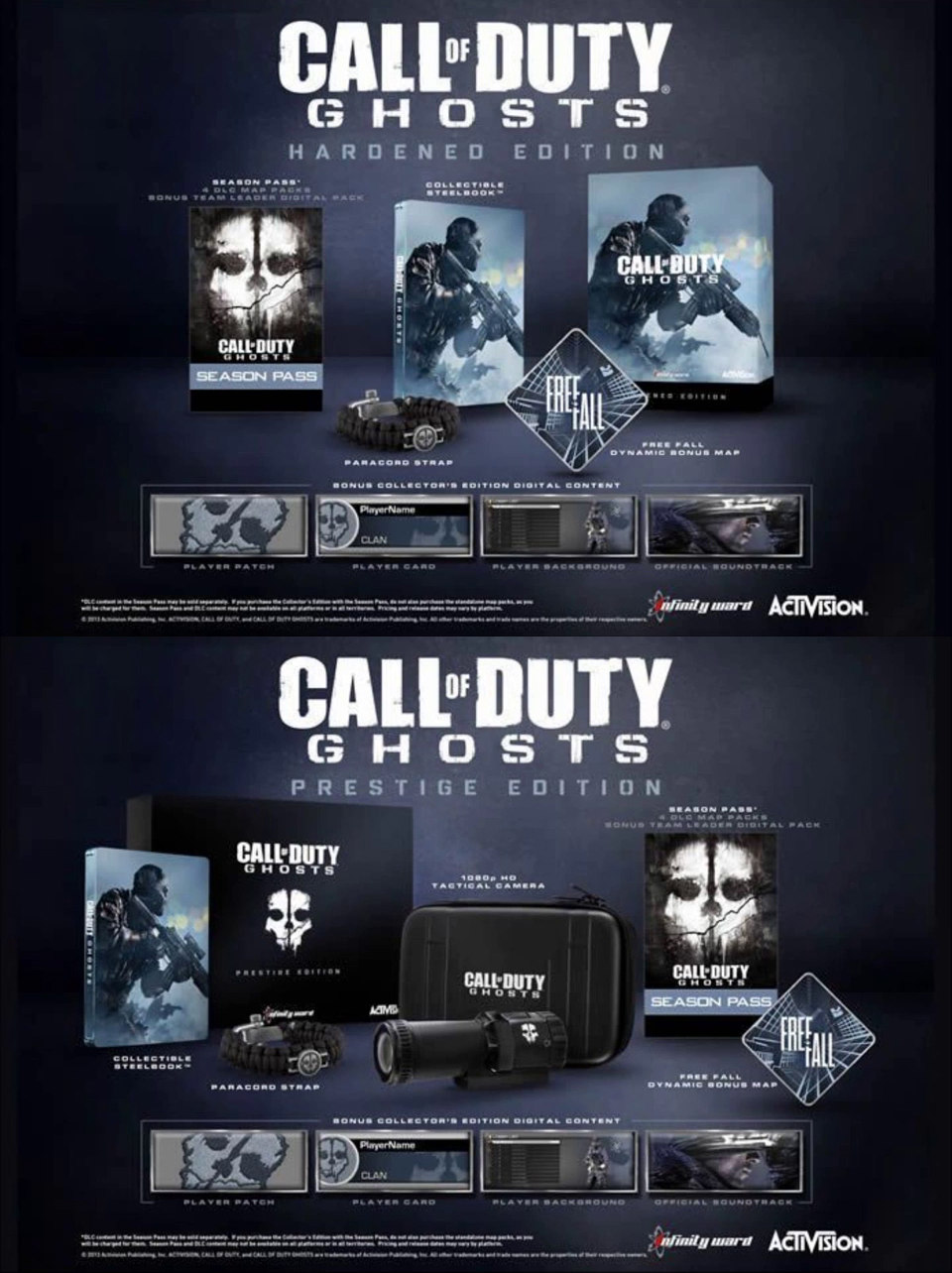 The Call of Duty: Ghosts Prestige bundle will reportedly include everything from the Hardened pack, as well as a 1080p tactical camera and a carrying case for it. Pricing information for both packs was not mentioned.
Developer Infinity Ward yesterday suggested a Call of Duty: Ghosts collector's edition was on the way, asking fans on Facebook what they would like to see included in such a bundle.
Infinity Ward will reveal the multiplayer component for Call of Duty: Ghosts today during a presentation in Los Angeles beginning at 1:30 EDT. GameSpot will carry a live-stream of the multiplayer event.
Activision has previously announced that multiplayer maps in Call of Duty: Ghosts will feature dynamic elements, such as earthquakes and floods, with player actions affecting the outcomes of these events. In addition, the game's multiplayer mode will feature a character customization system.
Call of Duty: Ghosts launches November 5 for Xbox 360, PlayStation 3, Wii U, and PC. Xbox One and PlayStation 4 versions are also in development. All downloadable content for the game will be available first on Xbox platforms.