EA has announced that FIFA 14 will hit stores in Europe, and by extension in India, on 27th September.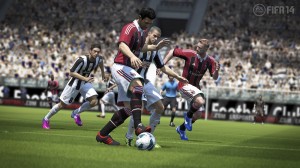 Limited Edition :
The Limited Edition of the game comes with several in-game perks. Four EA Sports Football Club unlockables will be available: Adidas Bundle, Pro Booster, Historical Kits, and Goal Celebrations. 24 FIFA 14 Ultimate Team Premium Gold Packs will also come with the game for the Ultimate Team mode. The game come in a special steelbook case. Those wishing to grab the Limited Edition of FIFA 14 must do so by preordering before August 1, while supplies last.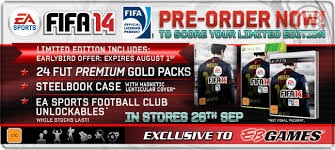 Collectors Edition :
The Collector's Edition of the game includes everything already in the Limited Edition version of FIFA 14, but has one special bonus. Those who grab the Collector's Edition will have their very own custom made soccer ball included with the purchase. These two exclusive versions of the game are available from Game for those in the UK, but so far no official announcement for the exclusive versions of FIFA 14 have been made for the United States. However, US FIFA fans will surely get their chance to get their own Limited and Collector's edition of the game as well.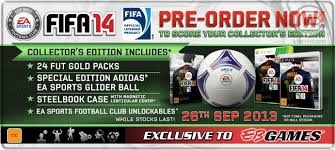 FIFA 14 is coming to the PlayStation 3 and Xbox 360, as well as the PlayStation 4 and Xbox One when the systems become available. The game will feature all new ball physics and better teammate A.I for a more realistic soccer experience. In addition, the EA Ignite engine will give the PlayStation 4 and Xbox One versions of the game an increased level of realism, from the player's animations to the the way the crowd reacts.