The latest update for Grand Theft Auto V's multiplayer mode, Grand Theft Auto Online, introduces "hipsters" to the mix. The aptly titled "I'm Not a Hipster" update is available today across Xbox 360 and PlayStation 3, and it offers up a series of "post ironic, artisanal, organic, entirely independent, 100% re-claimed" digital offerings for you to enjoy (or mock).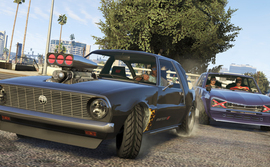 Some of the new items available in GTA Online through the I'm Not a Hipster update include new retro print tees, skinny jeans, hairstyles, tattoos, and animal masks. There's also seven new vehicles, including "classic nostalgia rides" like the Glendale, Warrener, Blade and Rhapsody. You'll also find an environmentally conscious Panto microcar, as well as the hulking three-axle Dubsta, which unlocks when you reach rank 100.
The hipster theme even extends to new weapons, including the Vintage Pistol and Antique Cavalry Dagger. In addition to the new items available through the I'm Not a Hipster update today, Rockstar has added 12 new Jobs across multiple game modes, as well as three new Gang Attacks in Chumash, East Vinewood, and Mirror Park. There's also a long list of general tweaks and fixes for GTA Online included with the update.
GTAV launched last September for Xbox 360 and PS3 to sales of $1 billion in 72 hours. Just last week, Rockstar officially announced that the game will be released this fall for Xbox One, PlayStation 4, and PC–and you'll be able to carry your character progress forward.