PlayStation Europe has confirmed on Twitter that the PS4's long-awaited system update 1.70 will be ferried down Internet pipes and right into your machine next Wednesday, April 30.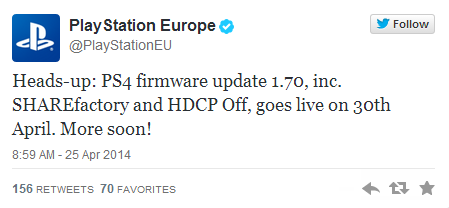 The update will bring a new app, SHAREfactory, which allows users to perform basic edits on their captured videos and also save them to an external drive, making uploading to YouTube a lot easier.
An option to turn HDCP off for games will also allow users to use their own capture devices, such as the Elgato Game Capture HD.
The 1.70 update will also bring with it the option to preload games purchased digitally off the PlayStation Store.
Sony announced earlier this month that global PlayStation 4 sales are now over seven million.