Do you ever sit in front of the television hours together and just cant move yourself because there is a "cricket match" going on ? Or never leave the opportunity of playing a game of cricket .. Well then this is the perfect video game exclusively made for those wacky fans of cricket.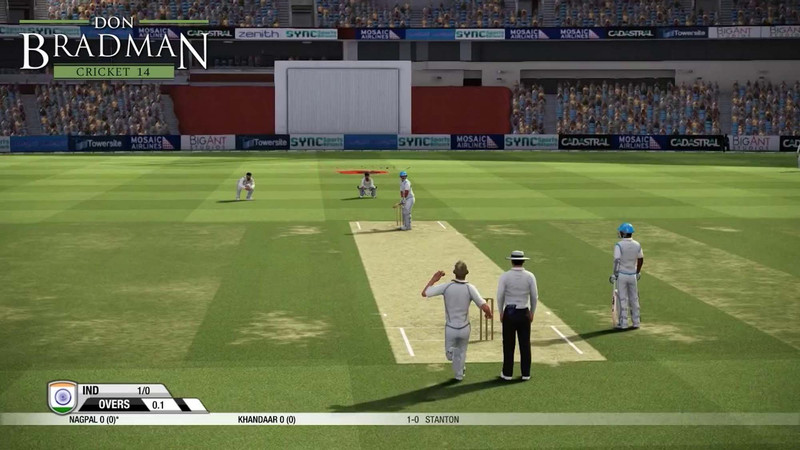 The name of the game is kept after the greatest batsmen who played test cricket ever but the end product is more of the new age form.Its exceptionally dynamite and occasionally ablaze, but with a custom to unbind all of its hard work with bewildering delusion in judgement or illusive technical fault.
But by keeping the cons away for now, Don Bradman Cricket 14 is certainly the most striving cricket game in all of its genre . Its a game that not only takes practice but also the essence of patience is needed to play the innings. A sturdy title that will keep the explicit happy but might be proved complicated to the casual player.
Coming to the features of the game, if your hoping to see the beautiful cheerleaders dance for you when you hit a boundary or fireworks erupting all around the pavilion when you take a wicket at the crucial time .. well in that case your not getting any of it. Don Bradman Cricket 14 is that like, a Sunday cricket on a small town oval its calm and restrained.There's just Bradman, subdued music in the background and precised main menu.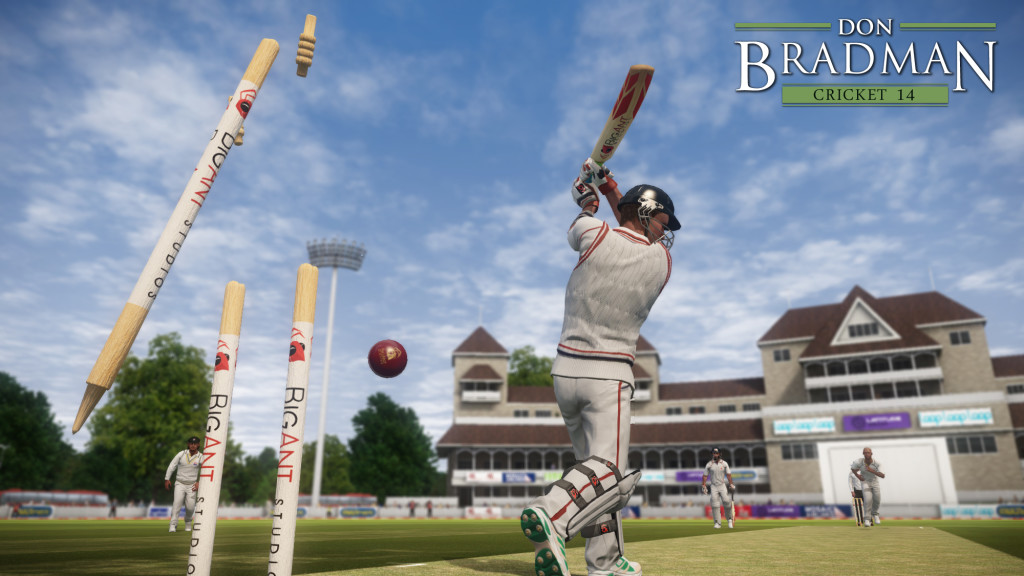 Featuring a built-in player creator and a 20 year career mode, you can live out the life of a masterly cricketer in the confines of your home and take your player through the ranks to attain international glory by competing against challengers from all across the world.When you start the game you are asked if you want to import current top community created teams from The Cricket Academy , no no don't look so confused it only means that the game does not ship with the real teams but once your connected to the internet you can import these teams and the most awesome part is that you can have all the best players in their real facet .
GAME FORM:
Don BRADMAN CRICKET14 hauls with a number of game modes with the most common Tournament, Tour, Career and Practice Nets..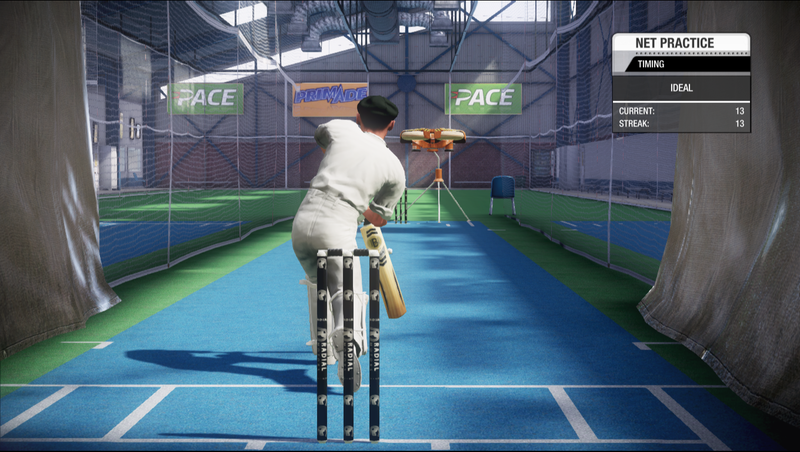 In Career mode you can customize your player (make him good looking) and start your career as 16 year old lad and then fight your way up ohh not against your co players but to be the best player in the world over a maximum of 20 seasons . Hmmm yeah its a long hard flounder and is really only for the contemplative cricket fans out there .
The more common mode is the Tournament where you can play anything from a T20 to a full o tournament mode. the Tour mode lets you recreate some exotic tours of the past.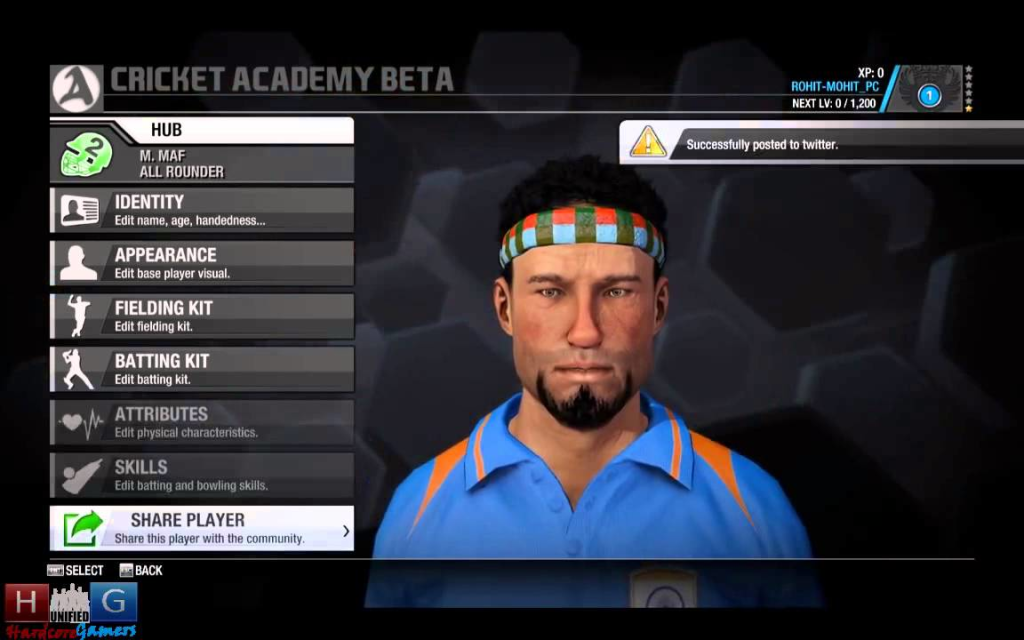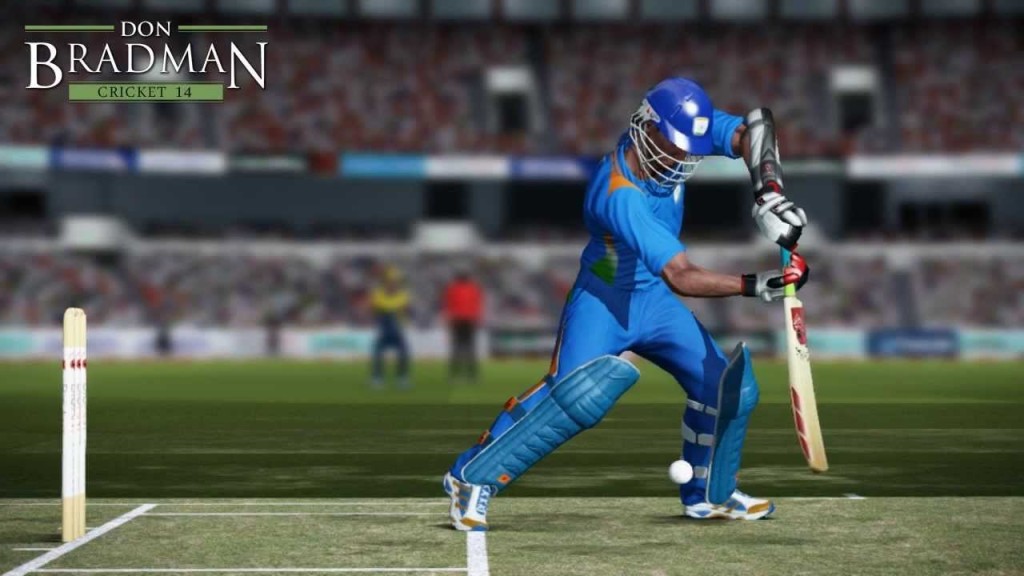 The Big Ant Team's love of cricket is evident in the games attention to detail in the attempt to deliver as realistic cricket simulation as possible.
CONTROLS
BOWLING:
Whenever you play cricket at home on a device, bowling is never fun, you always want to bat right?? For you "anti bowlers" this game is truly a saviour because Don bradman Cricket 14 has done a pretty good job in this department.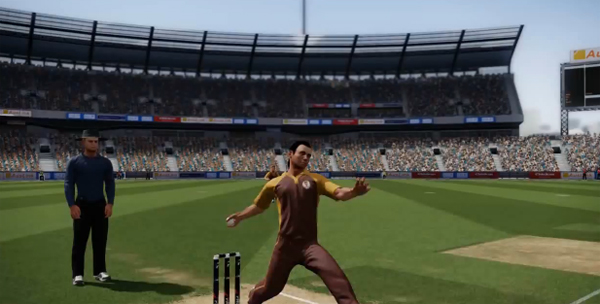 Bowling is completely on a new level which is unique and will take sometime to get used to. The easier levels will allow you a guide which will help in bowling. Every bowler has different speed so the need of jumping and releasing depends on each. The difference between a perfect yorker and a simple full toss is now decided by milliseconds making the game so much more difficult. Spinners precede the jump action for left-stick circling which puts more revolution on the ball. "Practice makes a man perfect" this quote haunted you when you had to do math but in this game you have to put it into play to get comfortable with the bowling systems and in a few overs you can bowl an onslaught yorker or a slow ball and blow away the stumps. So once your the champ in this you need to level up and.. and… your all by yourself there. No guides, no help..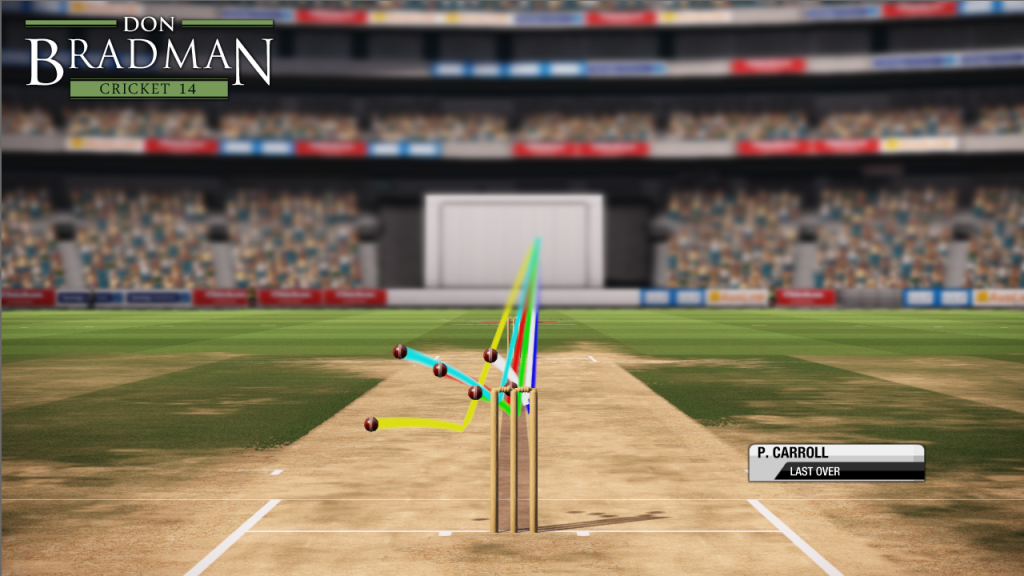 BATTING:
Do you feel that your head is upside down reading the bowling controls? Well the batting is a cup of drink. The idea is quite simple as the left analogue stick is for adjusting yourself and the right one is to swing the bat.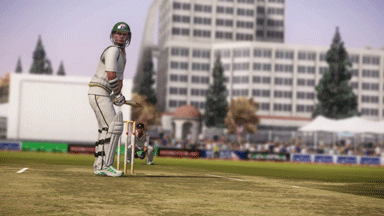 They are a set of controls for power shots and triggers for reverse sweeps and defensive shots.
FIELDING AND GRAPHICS:
Fielding is automated to great extent, but the controlling player is in charge of throws and catching the ball requires a right stick press towards the ball as it nears – which is a relatively simple matter in the outfield but makes the wicketkeeping catches tough and you need to be faster than lightning or have a super reflex to do caught-and-bowleds but again this is much real cricket.Fielders occasionally seem to collectively panic and run in comical circles, and take diving catches almost exclusively with a one-handed reverse-cup grip as if they were all showing of.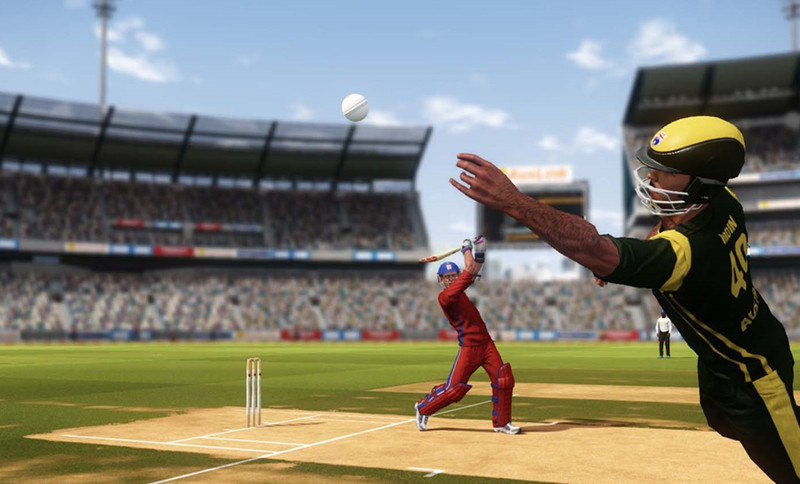 The graphics in Don Bradman Cricket14 are not that bad but then the visual quality of the game is not of the recent technology. The stadium and the crowd is boring and equally dull. But the animation and graphics in the instant replays are very good.
Want to play a match when its drizzling? Yes match variables such as weather, pitch conditions and even lawn stripping can be teased. You can also introduce batting innovations of modern cricket. The game also brings in the review system (shhhh… dnt tell the BCCI) allowing the player to challenge the computer umpire if a sporting injustice has been done. The commentary too features comical snafu.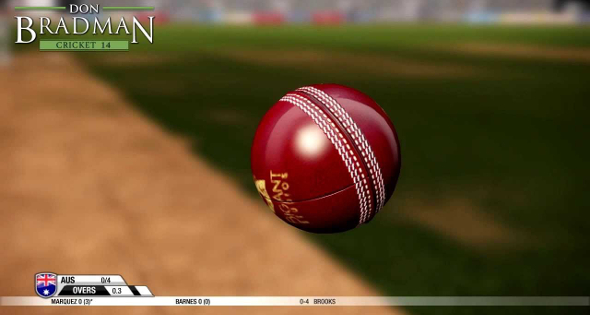 OUR TAKE ON THE GAME:
Overall if you see that this game is not made by a company over flooding with money. The graphics are clumsy but however you can say that this game is made by the true fans of cricket and all the important aspects are definitely included in the game.From the in-depth appeal system to the control you have over batting and bowling and even down to the difficult in catching. Don Bradman Cricket 14 seems likely to be the best cricket game that will emerge for this generation of consoles, and is probably up there with the best ever made – but cricket just seems to be tricky game material. It's definitely worth checking out for those that are fans of the sport, but for all of its significant successes and positive qualities.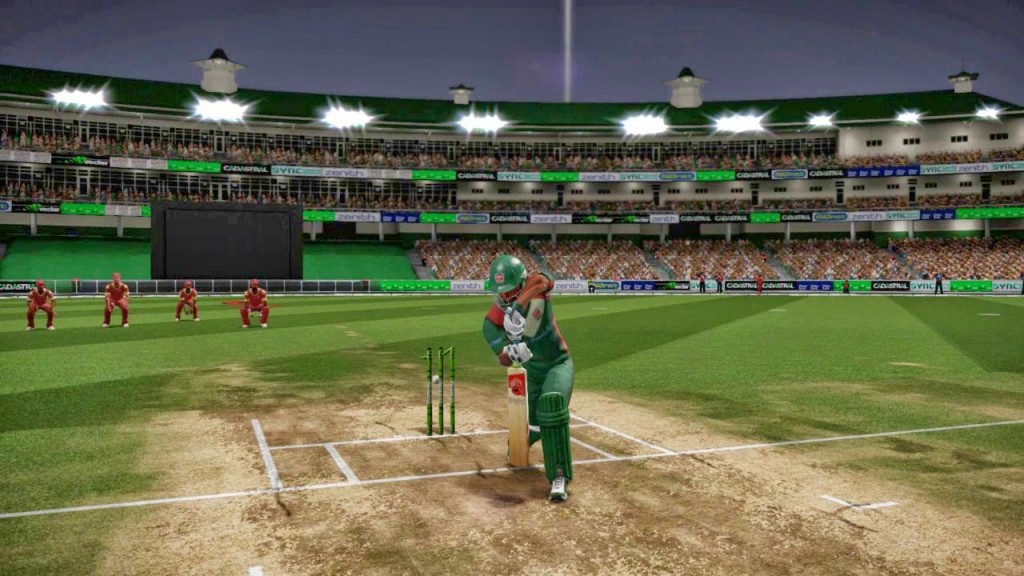 If you've been waiting for a real cricket game since Brian Lara or Jonty Rhodes cricket then wait no more.Don Bradman Cricket 14 is a pleasure to play and the different difficulty levels will hopefully have you hooked for years to come.
PROS:
Ball physics are excellent.
Manual appeal is genius.
Actual split second reflex gameplay works.
Fantastic community created players.
Bowling is rewarding with field changes.
Fantastic 2 Player fun.
Career while difficult is very additive.
Lots of game modes including excellent online.
Replay system is awesome.
CONS:
Graphics are not very pleasing.
Commentary can be repetitive.
Fielders throws hit the stumps far too often.
Batting can be frustrating on Pro or harder
Very In-depth create-a-player is super realistic.