Apple is one of the most versatile tech company and this is one of main reason for its high rank and status. Each day there is something new discovered about iPhone. In our previous post we discussed about the iPhone 5′s super gyroscope, magnetometer and accelerometer, which work as different motion sensors for iPhone but this time a new thing has been discovered, which will allow you to play games using your iPhone but with a twist.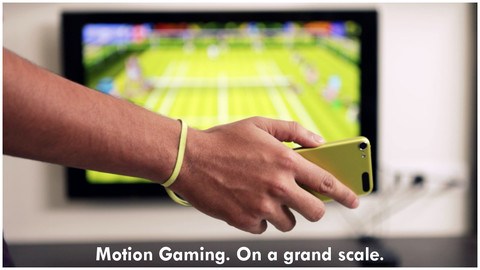 Just imagine, what if iPhone's motion sensors and AirPlay-compatible Apple TV are some how connected to produce Wii-like gaming console? This will be something amazing but Apple's CEO Tim Cook has not paid any attention to it.
Rolocule, which is an Indian-based-app-maker, has come up with a brand new game known as Motion Tennis. This game is something you all have been waiting for. The game uses the motion sensor in your iPhone and iPod touch and the Apple TV's AirPlay feature, so that Wii-like motion games can be played!
Motion tennis uses the new Rolomotion technology introduced by Rolocule, which was introduced few months ago. This technology converts the motion controller of iPhone and iPod touch to act as a Wii remote with the help of built-in gyroscope, magnetometer and accelerometer, in the iPhone and iPod touch. this simply track movement and you can now play the game!
Now all you have to do is just swing your iPhone or iPod touch, like your moving the tennis racket. The your motion will be tracked and directions are then transferred to the screen. It can detect several things like forehands, backhands and several different swings including lobs and slices.
This game is compatible with iPhone 4S, iPhone 5 and the 5th Gen iPod touch that is running on iOS 6. You'll also be needing a 2nd or 3rd gen Apple TV for AirPlay Mirroring. Before playing the game make sure you read their safety guide because in the excitement you might throw your iPhone at the TV!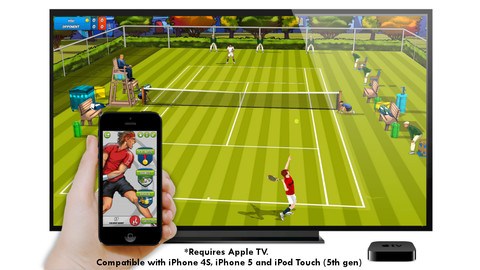 So, what else you need? This is a game for which all Apple users were desperately waiting for. There is much more to come from Rolocule and we hope there is something real big!
If you also just loved this game, you can have from iTunes for $7.99 and this is not a high price for such a wonderful game.
Thoughts?
Checkout this video to see this unique and fun game: