A promotional poster for Call of Duty: Ghosts' first DLC pack, Onslaught, shows it will release on Xbox Live Jan. 28, adding four new maps, a new weapon, and the first new episode of its Extinction mode.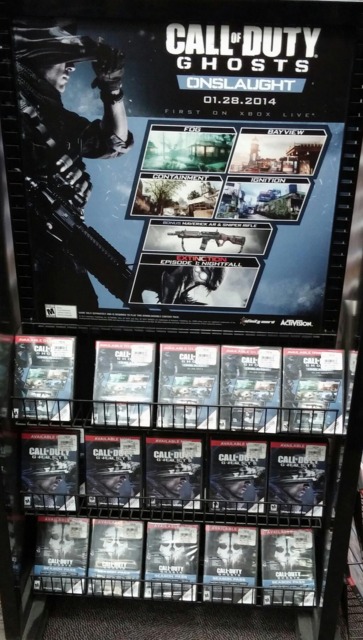 Twitter user @SeiousSix2010, who posted the image, says he found it at his local GameStop.
The four maps are titled Fog, Bayview, Containment, and ignition. Nightfall will be the first of four new episodes in the game's cooperative Extinction mode. At this time, it's unclear whether the "Maverick AR & Sniper Rifle" shown in the poster refers to one or two weapons.
Onslaught is the first of four DLC packs Activision included in the game's season pass, with Devastation, Invasion, and Nemesis still to come this year (together they spell O.D.I.N, the name of the space station that is central to the game's plot).