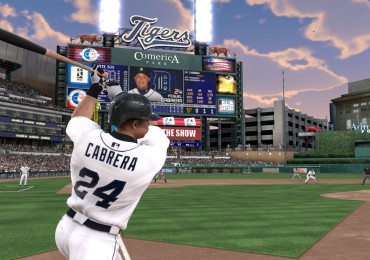 Planning to play MLB 14: The Show on PS4 but don't feel like waiting until May 6th? Good news, GameStop has announced a new PS3-to-PS4 upgrade plan. If you still own a PlayStation 3 you can go ahead and buy the game (out today) for PS3 and then upgrade to the PS4 version for just $19.99 when it releases.
The only requirement is that the original PS3 game must have been purchased at GameStop, and you must be a GameStop PowerUp Rewards member (membership is free). If you've already pre-ordered the PS3, Vita, or PS4 versions of the game, you'll receive $20 worth of in-game currency for MLB 14: The Show.
In addition to the upgrade program, GameStop is also holding a special trade-in promotion for MLB 14: The Show. Any trade-ins (games, smartphones, tablets, accessories) towards the purchase of MLB 14: The Show will receive a 30-percent in-store credit bonus. PowerUp Rewards Pro members ($15/year) will get a 40-percent credit bonus.
GameStop is currently the only retailer offering any sort of upgrade program for MLB 14: The Show.